The Asia cup was thrilling……..until the last ball was bowled!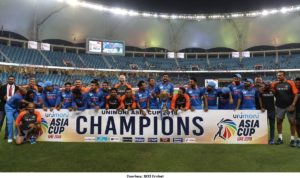 We certainly didn't hope that the Asia Cup would start in such a manner. Bangladesh defeated Sri Lanka by a huge margin of 137 runs ensured that Sri Lanka lost their leftover cricketing skill with Dilshan! Mushfiqur Rahim's 144 runs helped Bangladesh to set a strong target of 261 runs, which Sri Lanka couldn't even think of achieving. The whole Sri Lanka team stumbled after scoring just 124 runs.
The match between Hong Kong and Pakistan went as per our expectation. Pakistan won the match by eight wickets after chasing a mere total of 117 runs.
We were not even recovered by the shock of Sri Lanka loss in the first match, and they again lost. This time it was against Afghanistan! We always knew about three talented players of Afghanistan - Rashid Khan, Mujeeb Ur Rahman and Mohammad Nabi, but we realised there were more of them in their team. So, Sri Lanka scored just 158 runs while chasing a target of 250 runs and lost again. They were out of the Super Four with that loss.
Hong Kong gave a good fight to India in the next match and gave their best chasing a total of 286 runs. They managed to score 259 runs in 50 overs, or we should say, survived for full 50 overs! India won just by 26 runs.
Pakistan Vs India was the most boring match of the Asia Cup as Pakistan just scored 162 runs which India won quite easily with eight wickets in hand. The next game was astonishing for us! We saw the all-round capabilities of Rashid Khan where he scored 57 runs in 32 balls and took two wickets. Experienced Bangladesh failed to chase a total of 256 and fell after scoring just 119. Afghanistan won by 136 runs. The initial four Super Four matches were quite predictable than the last two.
India defeated Bangladesh by seven wickets in a low scoring match. Pakistan defeated Afghanistan by three wickets after chasing 258 runs to win. By then, we were highly impressed by the whole Afghanistan squad who gave us hope, that even average people can do wonders in their lives! The other person who impressed us was the known Shoaib Malik, our universal Brother-in-law. He helped Pakistan team to escape a loss by staying till the end and scoring 51 runs. He again fought hard against India and scored 78 runs. India received a target of 238 runs to chase and win. Both the Indian openers, Rohit and Dhawan, made it look so easy when they both scored centuries. India won the match by nine wickets.
In the next match, Bangladesh managed to take revenge against Afghanistan and won the match against them by setting a target of 250 runs. However, the win didn't come so easily as Bangladesh won it by just three runs! The next match was shocking not because India gave rest to both of their openers against Afghanistan. Also, not because they gave a chance to some young talented players but because it ended with a tie! A thrilling match where Afghanistan scored 252 runs in 50 overs, again surviving for the whole 50 overs against India! And just before one ball was left and one run to win, India bowled out for 252 runs! The match was a tie, and we were as amazed as the rest of the cricket fans. The last match of the Super Four was also a shocker as Bangladesh defeated Pakistan by 37 runs. Pakistan couldn't chase a total of 239 and was able to score only 202 runs.
Both Afghanistan and Bangladesh gave us hope that ordinary people like us have the power to beat talented people with hard work. So, we were super excited to see the final between Bangladesh and India and we were not disappointed at all. Bangladesh scored 222 runs with Liton Das scoring 121 runs. India was slower than expected and kept losing wickets at regular intervals. The match went to the last ball when India needed one to win the match, and they scored the winning run by a leg bye! As usual, India won the Asia Cup on the last ball, but whatever that happened earlier to that made us believe that anything can happen in cricket.